"Somewhere along the way, we must learn that there is nothing
greater than to do something for others."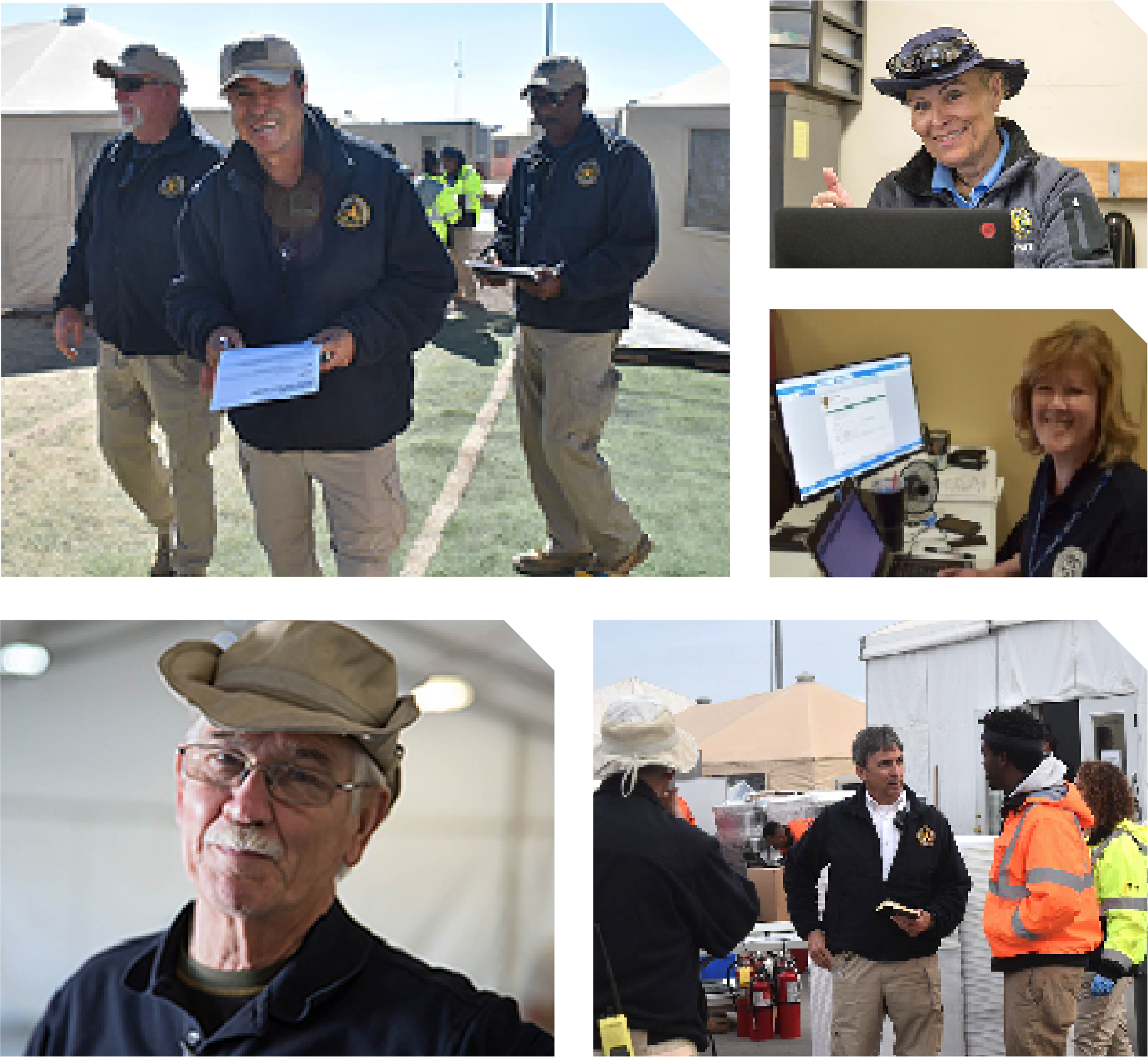 Loyalty. Respect.
Mission-Driven.
A job helping others thrills and inspires. It is rewarding, it nourishes the spirit, and allows you to make a difference in someone's life. Our responders are unique and diverse, come from all over the world, and have all kinds of experiences, but are all driven by the same mission!
Our responders are PRN or "as needed" personnel, which means they are activated to work when an emergency happens and are expected to be ready when the mission needs them. PRN personnel can deploy once in six months, work straight for a year, or not deploy at all. Deployment is not convenient and sometimes not reliable or sustainable as there is no set deployment schedule. Deployment is based on the mission's scope, size, and workload.
OUR RESPONDERS COME FROM ACROSS THE NATION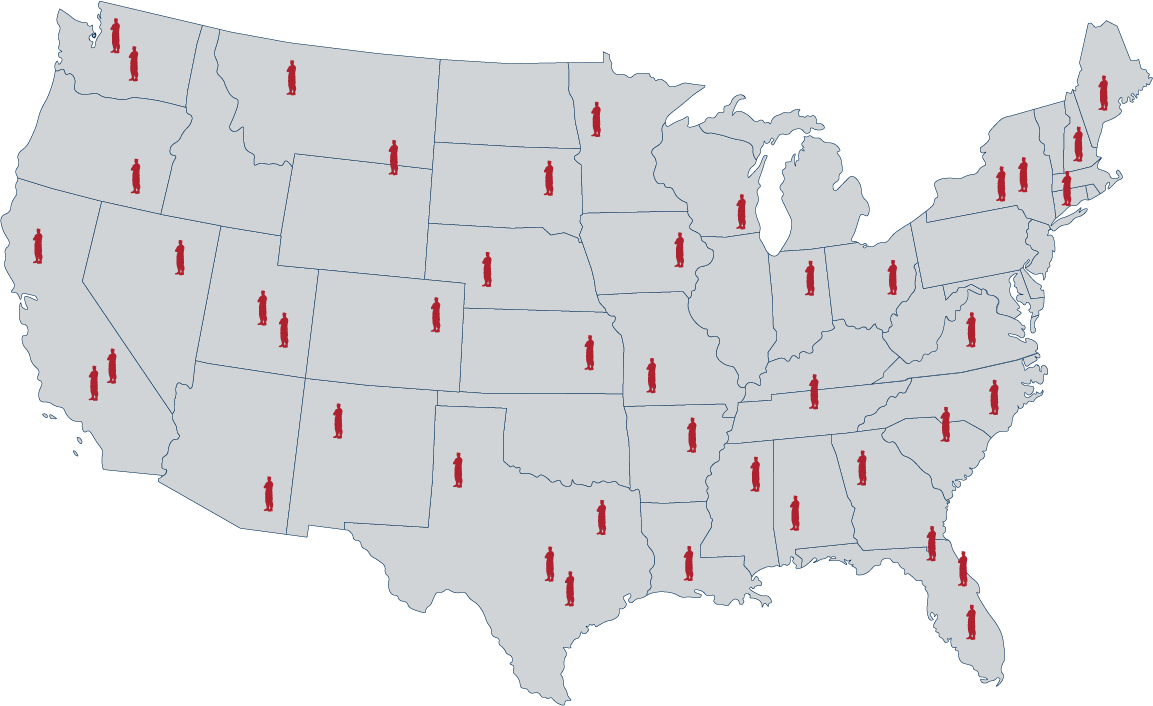 "Here at National EMR, they do things the right way, for the right reasons, for the right people, simply because…it's the right thing to do."
MARIO GUERRA, IMT RESERVIST
"Each response deployment showed me how capable and diverse the Emergency Management Division had become. Members of the IMT brought knowledge and strengths that combined into truly All Hazards Teams."
Paul Broussard, IMT RESERVIST
"I'm pleased to say National EMR continues to be the greatest professional experience of my lifetime. If exceeding expectations while caring for others in a no-fail environment is your thing, you've come to the right place."
A great workplace combines a meaningful mission, motivating challenges and exceptional colleagues. At National EMR, we pride ourselves on being part of a diverse, committed group of people that works together to do what is RIGHT for those in need. We believe a company's values are shaped by whom they hire and what is rewarded. We work with talented, hard-working individuals who use creative and efficient ways to evolve, innovate and continue shaping the world of emergency management. Below are values that are critical to us. If these values describe you, and those you want to surround yourself with, see our work opportunities below.
Interested in working with us as a responder or full time?
You consider the effect of your actions on others and abstain from engaging in rude and/or negative behaviors.
You act with good intent and are reliable and accountable for your actions.
You treat others as you want to be treated.
You carry out and live your values.
You engage productively and efficiently with colleagues to promote a positive workplace environment, learn from others and accomplish tasks successfully.
WHAT DOES IT MEAN TO BE PRN?
PRN is an acronym for the Latin "pro re nata," which means "as needed." PRN disaster responders work on-call and are deployed when an emergency happens and the mission needs them. PRN disaster responders may be activated to work from a single shift to multiple days in a row and everything in between; the possibilities are endless. Being a PRN allows you the flexibility to set your own schedule and answer the call to serve when the community needs you.
Where will I be deployed?
National EMR frequently operates in the states of Texas and Louisiana, but our disaster responders have deployed nationwide to California, Florida, Massachusetts, Missouri, New Mexico, and Puerto Rico, among others. Locations vary and are dependent on the incident.
Do I need to purchase a uniform to deploy?
Yes, you will need to purchase your own 5.11 tactical work pants, a tactical work belt, and tactical boots at your own expense. You will not be reimbursed for this purchase as this is the required uniform for any National EMR response. National EMR will provide three (3) uniform tops and if needed, any weather gear you may need depending on your assigned position (hats for the sun, rain jacket for rain, fleece for cold, etc.). 
What does National EMR cover when on deployment?
National EMR will provide (or reimburse for) what you need except for personal items. National EMR will cover your travel to/from deployment location (ground or flight), luggage fees (one bag), rental car (if needed and approved) or shuttle service, gas card for rental, lodging, food or per diem, and uniform tops. Services provided will be dependent on your operational location. Expenses may be reimbursed if they follow the established finance protocols. You are required to use your personal credit card to hold for hotel incidentals and be responsible to pay for incidentals/other minor expenses you accrue. 
Do I need a go bag?
Yes. During onboarding, you'll get an outline of suggested and required items to bring to any deployment. Anything else is up to you but please note that you should only need ONE bag. 
When should I expect to be deployed?
You should always be ready to deploy. We want you to think of this job like the Army Reserves. There's minimal participation at the daily level (think: inputting availability, biannual drills, reading emails) until we have a response or mission. Once we have a mission or response you should be available, ready, and willing to deploy at a moment's notice. Don't worry, if you're reading your emails you'll know when we have a mission! 
When do we find out how much we're getting paid?
Pay rate varies based on position, experience, and credentials. When you deploy, your activation order will have your hourly pay rate. During deployment, overtime is compensated at 1.5 the hourly rate.
Do employees receive any benefits?
Disaster responders do not receive benefits, unless required by the contract or external agency. National EMR full time employees get a full benefits package.
How long will I be deployed?
National EMR operations will vary on duration and need, it may be three weeks or it may be six months. We just don't know. However, you are expected to be available for a minimum of 21 days to be considered for deployment. 
Do I get time off?
Rotations of each deployment vary by operational needs. You may be asked to work a 6/1 (1 day off for every 6 days of work), 14/2 (2 days off for every 14 days of work), or 21/3 (3 days off for every 21 days of work) schedule. Typically, National EMR disaster responders work 12+ hour shifts. While off (what we call rest and recuperation time, or R&R), you are permitted to go home. 
What do deployments consist of and what kind of deployments does National EMR go on?
We are qualified to handle any all-hazards response from wildfires to global pandemics. Previously we have covered wildfires, medical surges, medical sheltering, border influx centers, hurricane relief, and more. We may anywhere from Washington state to Puerto Rico. When you are deployed, you are expected to work 12+ hours a day for up to 21 days in a row. However, we cannot predict how many deployments we'll have as we have no control over emergencies or natural disasters. You may go an entire year with no deployment, or you may be asked to be deployed for an entire year. When you're not deployed your expectations will be minimal (check your emails, maintain your certifications, send your availability monthly). 
Do you accept volunteers?
No, we only work with PRN personnel and full-time employees only. 
Do you have a question we didn't answer?